History of Our Section.
Many years ago, Mark Wisbey put an add in the MZ Rider, the club magazine, to ask if any one wanted to meet once a month, that was how the section was started, over a period of time the numbers increased and the section was recognised officially by the MZ Club.
Later, due to his many other commitments, Mark found that he was unable to continue with his work for the club.
500cc single is good for exercise as well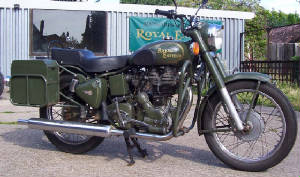 click to enlarge



Section Rep.
Hello,
My name is Donald, although most people call me Don, I am the Section Rep. for East Anglia.
About the same time this picture was taken I wrote a letter to the club magazine just to say that we were still meeting at Ingham and all visitors would be welcome, and still are.
Several meetings later I was told to say yes, then I found out that I had been elected. It is a very pleasant job, talking to lots of different people about motorbikes, cars, traction engines and all sorts of wonderful subjects.
The second picture is a recumbent, bought for comfort and to give myself exercise and like MZ's it is FUN, it has a seven foot wheelbase, twenty-seven gears, underseat steering and is amazing.



The trike was bought because it is more stable with a load, the plan is to cycle from Lands End to John O'Groats, carying camping gear.