Don't forget that you are very welcome to come along and pay us a visit at any time
We have MOVED to the FOX & HOUNDS at Groton.
Post Code is CO10 5ED, Near Sudbury, Suffolk.
On the first Sunday of the month
(see Recent Events page for directions)
East Anglia is the large lump that sticks out into the North Sea, it contains Norfolk, Suffolk, Cambridgeshire and part of Hertfordshire.
Our meetings are held on the first Sunday of the month in the small Suffolk village of Groton at the Fox and Hounds, which has a well deserved reputation for good food, I only drink red wine, on doctors orders, well, that is my story. I try and get there by twelve o'clock but I am never the first to arrive.
Click to Find Groton on the map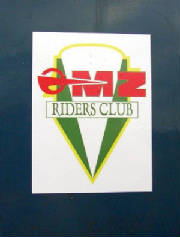 Recently I purchased this sticker from the Regalia Officer, if you click your mouse on it, you will see where I stuck it on my other vehicle that I love driving.
Don't forget to check out the Hints & Tips page as it sometimes contains a Bargain that are to good to miss.